Installation Guide
Installation Guide

The following information is offered as a guideline only. No warranty is implied. For best results, hire a professional tile installer experienced in the application of mosaic tile.

Before Installation

.Inspect each tile before installing
Checking the shade, color, tone, and size within each sheet of tile, makes sure all the material you received is 100% ready for your installation. If you got any problems with the material, please stop the installation and contact us at Contactus@DecorsMosaic.com ASAP.

.Clean the installation area, get mosaic tile and tools ready
The surface needs to be fixed, flat, clean, dry, and free of dust, and oil, so clean the installation area, and take the measurements to calculate the number of tile sheets needed (add 10% for waste and future repairs in case you need). You also need to get a V-notch trowel, rubber grout float, sponge, and so on ready for your further installation.

Installation of Mosaic Tiles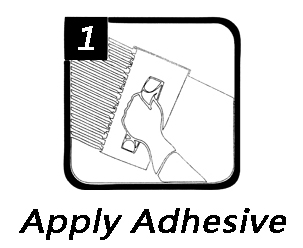 Apply the thin-set to the wall using the flat side of a v-notch trowel. Using the v-notched side, rake the adhesive to create ridges of the proper depth and size,
TIP:
Use a thin-set modified with polymer or latex, compliant with ANSI 118.4, to avoid affecting the color of the tile, white thin-set is highly recommended for all installations. It can easily be found in most home improvement stores such as Home Depot or Lowes.




Press the mosaic sheet toward the wall surface to make it even and attach it to the surface. After you position the piece around the obstacle, you can add back in little individual tile pieces to complete the pattern. You are going to need a tile wet saw with the appropriate blade for cutting the tile for the edge to finish the pattern.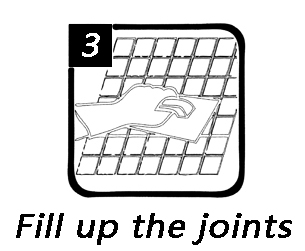 Once the tile is all in, it will need to dry for 24 hours before you continue. Apply protection tape around the tile before applying the grout to simplify cleanup. And clean any chunks of thin-set left showing between the tiles, so they don't show through the grout. For reducing grout cleaning later, moisten the surface of the tiles before you begin applying the grout. The grout is applied with a rubber grout float turned partially on the edge. Push the grout across the wall at a 45-degree angle to the lines between tiles, so the float doesn't catch the edges and dig out the grout.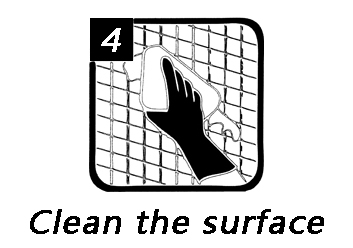 Start to clean off the extra grout with a wet sponge or a soft cloth when it begins to dry, regularly rinsing it out in clean water.